June 9, 2016, 12:35 p.m.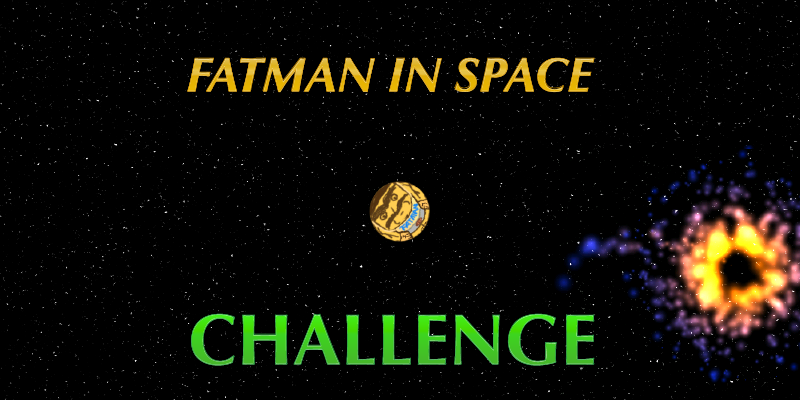 7/5/16 Update - The contest is officially over. Thanks so much for playing!
6/25/16 Update - The contest now has an end date. Prizes will no longer be given out after 10 PM PST on 7/5/16.
6/14/16 Update - Visit the home page to see how many prizes have been given out and how many entrants are in the contest.
Fatman in Space is a difficult game. No one has come close to beating it aside from me... and I made the game. I believe that there are a lot of people who will enjoy the challenge of this game if they invest enough time into it. So I've decided to provide some monetary incentive. This is the Fatman in Space Challenge!
Prizes
Prize Level 1 - $300 to the first 3 people to reach 100% completion in the game.
Prize Level 2 - $100 to the first 10 people to unlock all levels in the game. (This requires a minimum of 65% completion.)
You can earn both prizes, and thus take up a spot at each prize level. Amounts are in USD.
Payment
Payment will be done through PayPal. You do not hold a spot for a prize until you request payment, even if you were the first to be eligible for a prize.
Who Can Enter
You must be at least 9 years old. (Fatman in Space is rated 9+ on the App Store.) However, PayPal requires you to be at least 18. If you are under 18, then in order to receive payment, you will need a parent or another adult over 18 to accept the payment on your behalf.
PayPal is the only way to get paid, so you or someone on your behalf must be able to access or create a valid PayPal account.
On a related note, the location restrictions are defined by where PayPal is available.
You must be able to communicate in English.
You must be playing on version 2.4 of Fatman in Space or higher. If you've played the game before on an earlier version, you may still enter but must update and start over from the first level (Welcome to Space).
How To Enter
Download Fatman in Space. The game is currently only available for iPhone / iPod touch.
Make sure you are signed in to Game Center. If you are not sure, open up Fatman in Space -- you will be prompted to sign in if you are not already signed in. Your times and achievements on Game Center are one source that will be looked at for prize verification when you request payment.
Subscribe to this email list, where I'll send updates about the contest. Once you complete the sign-up, you can unsubscribe whenever and still be eligible for prizes.

Play the game! I encourage you to have some type of connection on your phone while you are playing (Wi-Fi or 4G/LTE is recommended) and to remain signed in to Game Center. Otherwise the verification process when requesting payment will take longer.
How To Request Payment For A Prize
Once you are eligible for a prize, send an email to contact@fatmaninspace.com with subject "Pay Me For Prize" and include in the body of the email:
your Game Center nickname
what prize you are requesting
If there are still spots available at the prize level you are requesting, then this email will serve to hold your spot for a prize.
You will receive an email response with further instructions. If you are verified as having completed the requirements for the prize (as of the time you requested payment), then you will get paid. Otherwise you will lose your hold on a prize spot.
The verification process could take a few days. It might be less than this, but I want to be careful to prevent cheating.
Cheating
You cannot take up more than one spot at each prize level. In other words, the most you could earn is $400 by taking one spot at Prize Level 2 ($100) and one spot at Prize Level 1 ($300).
If you are caught cheating then you will be disqualified. If you cheat and are not caught, then... shame on you.
Levels
There are 15 levels in the game. They are:
Welcome to Space
Spoiled Surprise
Gorgeous George's
Vacuous Tabernacle
Laser Temple
Floating Sanctuary
Left the Meteor Running
OG's Paradise (hidden level)
Fiery Chasm of Death
Smells Rotten
The Legendary Voyage
I Can't Stand Mold
Cocked and Ready
Lowballin' (hidden level)
Legend of the Hidden Tempura (hidden level)
It's up to you to find out how to unlock the hidden levels, although I may give hints.
Good Luck!
The contest starts now and will run until 10 PM PST on 7/5/2016. If you have any questions, ask in the comments below or send an email to contact@fatmaninspace.com.
Why I'm Doing the Contest
Released last November, my 4+ year project Fatman in Space has gained very little traction in the App Store. Not very surprising... how's an independent developer supposed to get any visibility in the App Store when there are juggernauts like Clash of Clans and Mobile Strike out there?
A person who stumbles onto Fatman in Space (perhaps through my paid advertising) and actually downloads it and actually plays it is going to give it very little time. And this is totally understandable... I'd do the same thing. Why spend more than a few minutes on a game that is not raved about (it only has a handful of reviews), comes from an unknown developer, and takes some time to learn? Because this game is just not a dive-right-in kind of game -- it takes some time and practice.
Out of 160 downloads, no one outside of me and my close friends has gotten past the 5th level. Most don't get past the 1st. I've made tweaks since the initial release to (slightly) reduce the difficulty, increase motivation to beat more levels, and make levels more appealing. However, it's hard to know how much of those tweaks are really needed, and if instead I just am not getting the right kind of players (such as a more serious gamer) or the players don't have the right mindset (such as, they are looking for a casual, quick-play kind of experience).
Or maybe the game just sucks. Hopefully after this challenge I will have a better idea.